Church Growth International(CGI)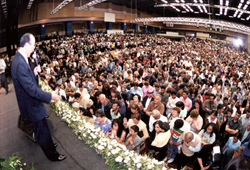 Church Growth International (CGI) was established in November, 1976 to help churches around the world grow by analyzing the growth of Yoido Full Gospel church based on biblical principles. With Rev. Yonnggi Cho, the founder of YFGC, as the president and Rev. Younghoon Lee as the executive director, CGI is leading church growth in the world. Moreover, CGI is displaying it ability as an international organization through the leadership of its 60 CGI board members composed of pastors from 25 different countries who were all influenced by YFGC and went back to their countries and experienced their own church growth.

CGI conference is a world church growth rally for pastors and believers all over the world and it is held in major cities all over the world every one to two years. CGI conference in Korea is held every 2 years at the same time as the Yoido Full Gospel Church Prayer Rally. The prayer rally, which is held in a sports stadium that can accommodate 60,000 people, is the highlight of the CGI conference. From 1976 to 2017, a total of 1.2 million people participated in the CGI conference and church growth seminars and returned with the dream of church growth.

In addition, CGI publishes an English magazine called "Church Growth International," in order to help world churches grow. The magazine is shipped to 18,000 readers in 181 countries. The magazine contains the writings of the president Rev. Yonggi Cho and Rev. Younghoon Lee, CGI board members, world-famous pastors, and theologians. It delivers the dreams and visions of church growth to the whole world. The magazine, which was re-edited in 2017, can be accessed through their website.

• Homepage : http://cgikorea.kr
• Tel : +82-2-6181-5030

DCEM (David Cho Evangelistic Mission)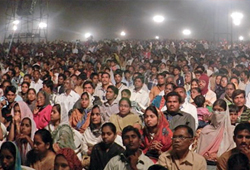 DCEM, founded in March 28, 2000, is a professional mission institute which supports the mission work and the Holy Spirit movement of Rev. Yonggi Cho, a world evangelist.

DCEM carries out Rev. Cho's Evangelistic Mission systematically and effectively. It conducts the work of planning and preparing Rev. Cho's domestic and overseas evangelistic crusades and vividly introduces his evangelistic ministries. Moreover, constructing a mission network all over the world, it actively develops missionary work by collecting, arranging, and distributing materials for mission.

DCEM is becoming a world class professional mission institute to fulfill the Lord's great commandment in Acts 1:8, "You will receive power when the Holy Spirit comes upon you, and you will be my witnesses in Jerusalem, and in all Judea and Samaria, and to the ends of the earth."

Preaching the Gospel Only by the Holy Spirit.