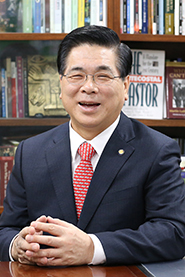 Hallelujah!

I welcome all our guests to Yoido Full Gospel Church in the name of the Lord and pray that the love and grace of Jesus Christ may be with you.

Yoido Full Gospel Church has been engaged in the movement of the Holy Spirit for the past 60 years and will continue the move centered on the faith of the cross and expand the kingdom of God through the message of the "Fivefold Gospel" and the Threefold Blessing".

Furthermore, Yoido Full Gospel Church, being a church that practices the serving heart of Jesus Christ and doing His mission until the Lord's second coming, seeks to become an example for society.

Above all, it will do its best to remain faithful to the mission of the church and raise up all its members to bear spiritual fruit and be wholly mature.

I pray that the grace, power, love, and comfort of Christ may be with all guests of our church. I truly love and bless you in the Lord.