Boxing Day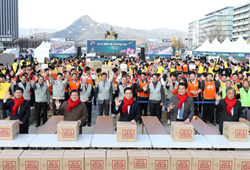 Boxing Day originated from the medieval times, where the church distributed boxes of daily necessities to neighbors during the harsh winters. Since 2012, our church and Good People have held this annual event, and thousands of boxes of hope have been delivered to neighbors in need. These boxes of hope have been a source of comfort and great strength for our neighbors in need including the elderly who live on their own, residents in poverty, struggling single-parent families, and multicultural families with financial difficulties.

After the tragic events of the Sewol Ferry accident, Yoido Full Gospel Church also conducted the Ansan Sharing Hope Project to provide financial assistance to the market and residents.
Emergency Relief Projects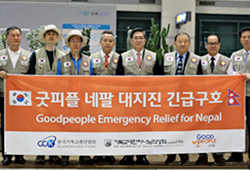 Around the world, the number of neighbors who are suffering from natural disasters such as earthquakes, tsunamis, and typhoons is increasing. In 1999, the most mobile relief organization called the Good People Emergency Relief Organization was established as a support system for Kosovo refugees, Paju flood damage, and Turkish victims. Good People not only sent a search-and-rescue team for disaster relief, but they also provided medical services, anti-epidemic work, water purification work, and orphanage building projects to restore the affected regions as quickly as possible. During the 2004 Indonesia Tsunami, the 2005 Pakistan earthquake, and after effects from the 2011 Japan earthquake, our church rendered emergency relief and prayer, and it became a driving force to make its church members' hearts united in spirit and love.
The Multi-cultural Project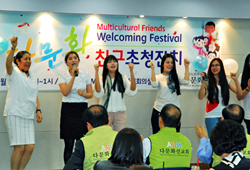 Korea is rapidly changing into a multicultural society, with millions of international residents. Our church holds worship services and meetings in different languages in the International Ministry Center for internationals residing in Korea. They actively help them with their faith by providing simultaneous interpretation for Sunday services in 10 languages including English, Japanese, Chinese, French, Spanish, Indonesian, Arabic, Russian, and Vietnamese. In addition, we have opened a multicultural center in Ansan, conducting various programs including Korean language education for foreign workers and multicultural families in the neighborhood, while also helping them settle in Korea through multicultural mission.

Its main program include home visitations, parties to mainly invite multicultural friends, multicultural charity concerts, sharing Korean holidays, and events that encourage multicultural families to attend. This is an event that is funded by the proceeds and donations from the charity bazaar held in the multicultural mission, which offers multicultural women (who are espoused to Korean men) as well as their families members the financial opportunity to visit their hometown.
Rural Community Mission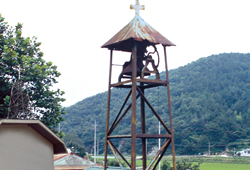 YFGC established the 'Rural Community Mission' to assist churches for farming and fishing villages and to support the pastors in the sparsely populated and remote areas of the countryside. Many groups in our church visit these rural churches every Sunday, hold revival meetings, provide evangelism training, help them with ministry consulting, provide pastoral materials, and help establish Sunday schools for church planting pastors who may lack finances and human resources, helping them settle and grow.

Since 2005, the Rural Community Mission has operated a 'church incubating system' for steady church growth by providing ministry methods and finances for pastors in the countryside for a certain period of time, and has received a good response from them.
Medical Services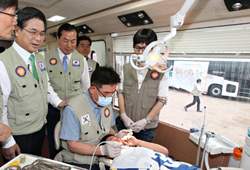 The "Medical Service of Love" program started in 1998, offering a general hospital on wheels that travels around the whole country. This mobile hospital serves farming and fishing villages which have no doctors, and treats disabled and foreign workers with the medicine of love. Our church has reconstructed a 45-passenger bus into a medical aid vehicle equipping it with advanced medical equipment. With this bus, Medical Service of Love serves patients with internal medicine, surgery, family medicine, obstetrics, ophthalmology, dentistry, oriental medicine, ultrasonography, bone mineral density, X-ray, chiropractics, blood tests, and medicine prescriptions. In addition, Medical Service of Love joins the senior pastor on his overseas crusades and tries to share and practice the love of the Lord.
Free Heart Surgery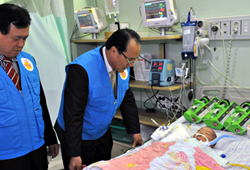 The free heart surgery project for children with heart disease started by supporting and saving a certain child who suffered from a heart disease and who couldn't receive treatment because of poverty in 1984. This particular project is funded by profits earned by members of Yoido Full Gospel Church by selling used paper, milk cartons, and old clothes.

Since 2000, it has expanded to countries without medical care such as China, Vietnam, Cambodia, Mongolia, the Philippines, Iraq, Malaysia, and other countries to support children with heart disease. Presently, the Free Surgical Project for Heart Disease Patients has treated over 6,000 children.

This project has led to the construction of the 'Pyeongyang Yonggi Cho Heart Hospital' which began on December 4, 2007, in order to spread the love of Christ to North Korea. This hospital was founded on the desire to care for North Korean cardiac patients with the love of Jesus Christ and the hope of promoting civilian exchanges between the divided countries so that our church can prepare for the reunification of South and North Korea. When the construction of the 33,000m2 structure is completed, it will be used as a valuable tool to convey the love of God with top quality medical services. This hospital will also play a role in advancing the reunification and peaceful coexistence of South and North Korea.
Full Gospel Hospice Care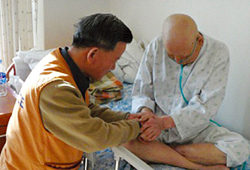 Full Gospel Hospice Care was founded in January of 2001. Since then, it has raised many volunteers who were sent to serve patients with terminal cancer. Notably, in cooperation with 'Yoido Good People Welfare Center,' which opened in 2012 by our church foundation, volunteers are taking care of patients of terminal cancer and their family by day and by night, 5 days a week. In addition, our skilled volunteers are regularly offering care at public health centers such as in the Canaan Senior Citizens' Welfare Center, Elim Welfare Town, Saemmul Hospital, Noble Cares, Sudong Yeonse Sanitorium, Seoul Cancer Sanatorium, Ehwa Women's University Mokdong Hospital, Suncheonhyang Hospital, Korea University Guro Hospital, Seoul City North Hospital, Seoul City Northwest Hospital, Yeongdeungpo Health Center, and Junggu Health Center. Also, they are actively in hospice care serving patients with terminal cancer, who are requested and appointed by each church district. In this day and age when the aging generation is rising and the number of senior citizens who live and die alone increases, the Full Gospel hospice ministry is needed more and more to take care of patients of terminal cancer in spiritual, physical, and emotional areas.