Church Growth Institute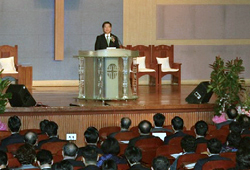 The Church Growth Institute was established to promote healthy growth in churches and to help both believers and pastors to be effective workers for the kingdom of God. For the past 25 years, since 1993, the institute has developed and distributed a variety of content and pastoral "know-how" and has worked hard to contribute to the growth and development of churches in light of the new challenges and changes of the 21st century.

In order to help Korean churches and the next generation, the Church Growth Institute is focusing on the following four fields of ministry.

• Church Care Project (C.A.R.E)

Church care (C.A.R.E), a (Consulting & Coaching) ministry, seeks to analyze problems in view of the love of God towards the church (Affection & Analysis), to recreate and reform the church (Recreate & Reform), and help ministers and believers be equipped for effective ministry (Equip & Effective Ministry).
• Church Growth Monthly Publishing
Church Growth Monthly is a magazine that diagnoses churches and shares content that is practical and helpful for church ministry. It provides a variety of content including a "Pastoral Manual" applicable to all ministries of a church, "Frontier Power Interview" which discovers and introduces new aspects and leading models of ministry, and "Church Issue" which diagnoses the main issues of a church and helps apply them to ministry in order to help Korean churches experience healthy growth.
• Book Publishing
The Church Growth Institute publishes a variety of books that inspire hope and vitality; books offering solutions to churches and members in unstable family situations, books introducing new methods and insights for churches and books that challenge young people who have left the church to turn back to Jesus.
• Lay Leaders' Training Program (MTS)
The "Ministry Training School program" is a training manual made with resources gathered over the years to nurture lay leaders holistically, and includes content from the very fundamental stages of faith to the deeper aspects of being the church. Since it is easy to apply and practice, it is a great resource for equipping lay leaders.
International Theological Institute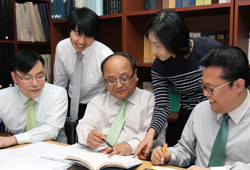 The International Theological Institute was established to theologically systematize the faith of Yoido Full Gospel Church, and to develop and spread Pentecostal theology, in order to better serve churches in Korea and throughout the world.

The International Theological Institute conducts most of its research on the following key topics: Emeritus Pastor Yonggi Cho, the Five-fold Gospel, the Three-fold Blessing, Fourth Dimensional Spirituality, the mindset of sharing and serving that is emphasized by Senior Pastor Younghoon Lee, and the spirituality of bearing the fruit of the Holy Spirit as a "Little Jesus" in our everyday lives through the fullness of the Holy Spirit and the Word. The institute takes these key research topics and systematizes them with Pentecostal theology.

The International Theological Institute provides various materials and books published as the result of this research to churches and theological education institutes both domestic and international, to help pastors and believers of Pentecostal faith use them as texts for faith, training and education, and spreads the Pentecostal movement and the essence of Full Gospel theology beyond our denomination.