Education Development Institute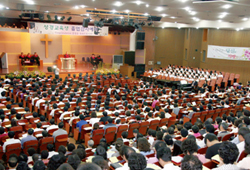 The Education Development Institute, established in 1978, is a department that teaches the Bible systematically to all the church members at Yoido Full Gospel Church.

Based on the Fivefold Gospel, the Threefold Blessing, Fourth Dimensional spirituality, and Full Gospel theology, it teaches on various subjects related to the Bible and a life of faith for all believers, lay leaders, and staff, to cultivate workers of Christ equipped with the truth of the Word of God and the fullness of the Holy Spirit.
Spiritual Training Institute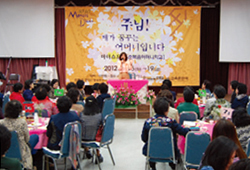 The Spiritual Training Institute was established to help members grow in faith and help provide spiritual renewal for the pastoral staff of the church. Its programs and training are based on the Full Gospel faith of the Fivefold Gospel and Three fold Blessing, and the spirituality of the Fourth Dimension.

Through programs such as intercessory prayer training school, Pentecostal Holy Spirit school, spiritual warfare training school, Holy Spirit healing school, Father's Dream (Full Gospel father's school), Mother's Dream (Full Gospel mother's school), cell leader's training school, weekday and Sunday intercessory prayer meetings, home ministry training, lay ministry training, and pastoral training, the institute strives to produce true disciples of the Full Gospel who dwell in Jesus Christ and helping bring revival to the districts, cell groups and churches. The institute hopes to become the cornerstone of spiritual renewal and growth by building a spiritual foundation for families and individuals.
Pentecostal Love Training School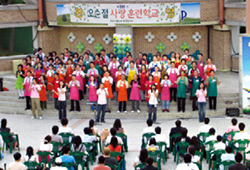 The Pentecostal Love Training School is a training institute which helps people restore their first love for Jesus again. Through 3 nights and 4 days of training, participants learn about the Christian life, so that they can develop the Christ-like traits of humility, gentleness, and love, and live as mature Christians and true disciples of Jesus.

The Pentecostal Love Training school seeks to help believers of all denominations by helping them create communities of love in their churches and places of ministry as well as increasing their capacity of faith.
Newcomers Department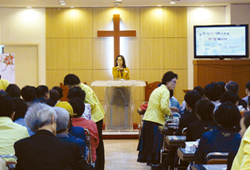 The Newcomers Department offers teaching on the basics of the faith to new believers. Its purpose is to guide new Christians through the life of faith and church. Its curriculum includes a three week basics course on faith.