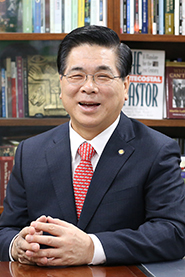 Hallelujah!

We welcome all of you who are visiting us online.

Since Yoido Full Gospel Church's establishment as a tent church in Daejodong in May 18, 1958, we have been striving forward in faith to fulfill God's call to do missions and to preach the gospel to all nations. Throughout the years, we have been committed to saving souls, being filled with the Holy Spirit, practicing love, and doing outreach. We believe that God has been pleased with these commitments, resulting in the outpouring of grace that has allowed our church's membership to grow making Yoido Full Gospel Church, the world's largest church.

This was all possible solely by the work of the Holy Spirit. And in order to continue carrying out the work of the Holy Spirit, our goals are to be a church that grows through the Word and Prayer, a church that bears Fruit through the Love of the Cross, and a church that transforms the world through the Power of the Holy Spirit. All of our pastors and members will be united in heart and will to become this kind of church and to partner with the Lord in His work.

I proclaim that good things will happen in Jesus Christ. I pray that you would be blessed, and that each of you would experience the fullness of the Holy Spirit and fulfill the dreams that the Lord gives you.

I give all the glory, thanks, and praise to our God who is the same yesterday, today and forever and I truly love and bless you in the Lord.